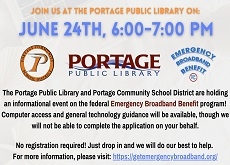 Join us Thursday, June 24th, any time from 6:00-7:30 pm to learn more about the Emergency Broadband Benefit (EBB) program! Information, technology access, and general application guidance will be provided by library and school district volunteers. Please note that program volunteers will NOT be able to complete registration on their behalf.
What is the EBB program? If you experienced financial hardship due to COVID-19, or already receive certain government benefits (SNAP, SSI, etc.), or participate in related Tribal programs, or received a Federal Pell Grant (there are several qualifying options: visit https://www.fcc.gov/broadbandbenefit for more), you may be eligible to register! Once qualified and registered, the EBB will supplement your monthly internet subscription bill (per household) by paying area service providers $50 directly to discount your monthly bill (Tribal benefits are $75/month). Many area service providers are partnering with the EBB (AT&T, Verizon, BugTussel, Charter, Frontier, etc.). This federal money is available to all qualifying individuals throughout the U.S. WHILE SUPPLIES LAST, so taking advantage of this program sooner is the best way to save money!
Note: The Portage Public Library and Portage School District volunteers overseeing the drop-in event are NOT experts on the EBB program, nor are we official representees of the EBB or FCC; for more information and/or assistance with the EBB program, please visit: https://www.fcc.gov/broadbandbenefit to contact the FCC directly.