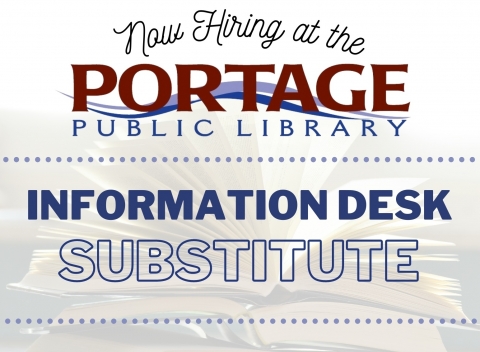 Interested in joining the Portage Public Library team?  Apply now!!
JOB TITLE: Information Desk Substitute
LOCATION: Portage Public Library - Portage, WI
JOB DESCRIPTION: The Portage Public Library seeks applicants for TWO Information Desk Substitute positions. Information Desk Subs are on-call employees, whose hours will consist of shifts requiring coverage as needed. This position is excellent for someone with a flexible schedule. The Information Desk worker will mainly help patrons with basic technology assistance (printing, scanning, copying, faxing, etc.) and general library account/operations questions. The Information Desk Sub is also expected to operate as the 'floor supervisor' (in absence of the Library Director, Library Leadership Team, or Library Assistants), and will serve as the main point-of-contact for all patron questions and needs which Circulation Clerks cannot assist with.
Prospective applicants should have excellent customer service and communication skills, as well as an interest and willingness to help people with diverse technology troubleshooting needs. Applicants should be comfortable supervising other employees and enforcing library policy when necessary. Information Desk Subs report to the Adult Services Librarian.
JOB QUALIFICATIONS: Must be 18 years of age or older. High School diploma or equivalent strongly preferred. Supervisory experience preferred.
PAY: This is a part time position, and is not benefits eligible. As an on-call position, hours are irregular. Hiring pay rate is $12.00/hr.
SCHEDULE:  As a sub position, Information Desk Substitutes do not have a regular schedule, and will be contacted when shifts are available requiring coverage; Information Desk Substitutes are expected to be reasonably on-call for shift availability. These shifts may be morning, afternoon, or evening shifts. Info Desk Subs will also be asked to cover occasional Saturday shifts. Training shifts will be provided after hiring before applicants are expected to be on-call.
*** This is a year round position.
TO APPLY:  Email application to cbaker@portagelibrary.us. Please put "Info Desk Sub" in the e-mail subject line.
Any questions? Contact Chris at 608-742-4959 ext. 203, or e-mail him at cbaker@portagelibrary.us.
The application deadline for these positions is Monday, November 1st.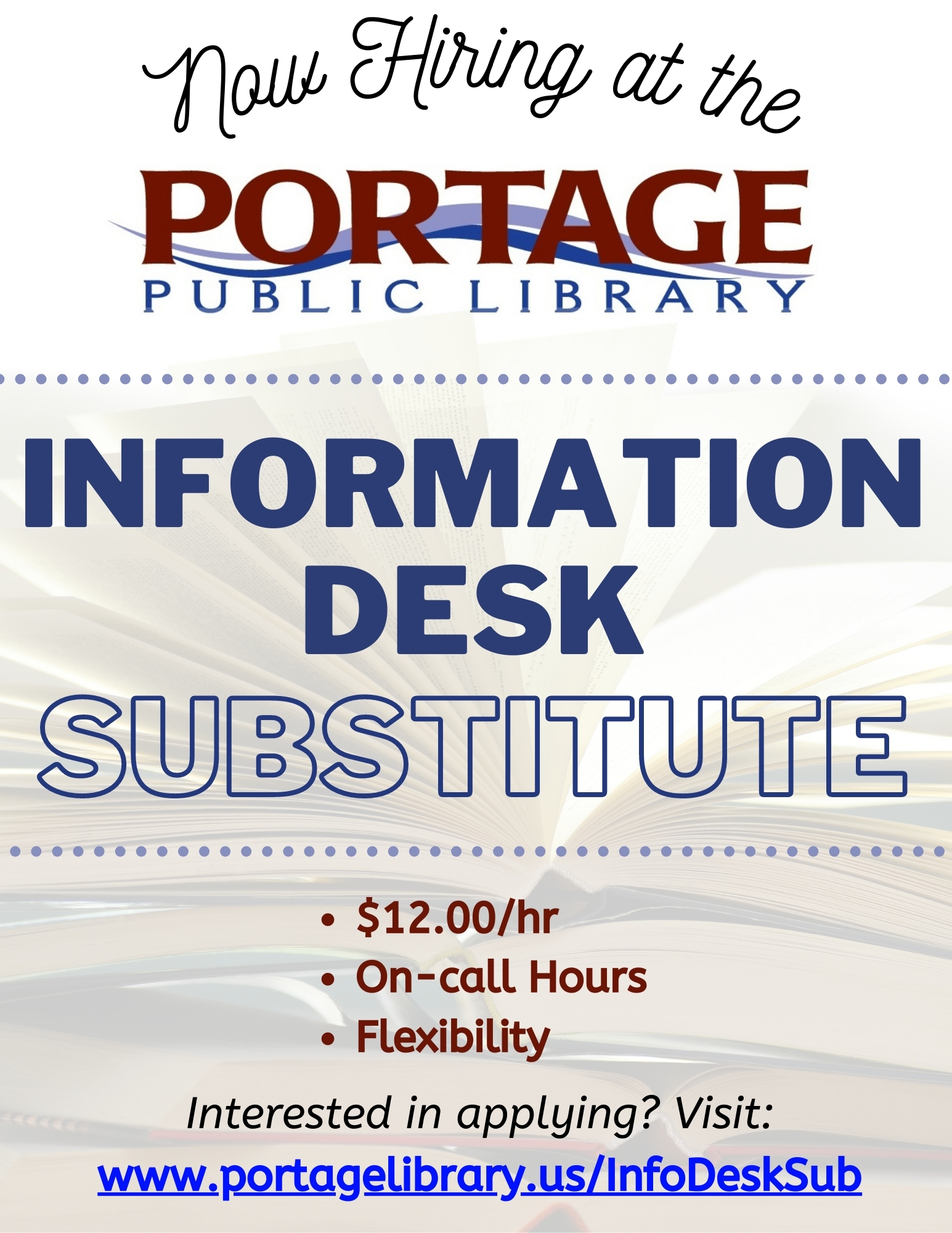 The Portage Public Library is an equal opportunity employer.