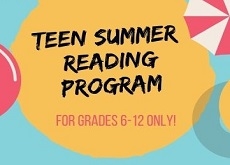 The Teen Reading Program is entirely online so reading logs can be completed anywhere!
- Teens or parents should go to this link to register an account: portagepublic.beanstack.org
This will require a non-school e-mail, so you will need to use a personal email or create one in order to register.
Instructions to Register:
1. Under "Create an Account, click on "Register an Individual or Family"
2. Click on "No" for the question, "Have you previously used Beanstack?"
3. Click on "I am registering myself" for the question, "Who would you like to register?"
4. Complete information: First name, Last name, Username, Email, Confirm email, Phone number, Password, Password confirmation, and How old are you?
5. Click on "No" for the question, "Would you like to add a child?"
6. Enroll in "2021 Teen Summer Reading Program"
7. Click "Create Account"
8. Your registration is complete!
Once registered, you will be able to start logging your reading time in minutes. You will receive a Badge (ticket) for every 5 hours (or 300 minutes) of reading time completed and logged in your account.
How do I redeem my tickets for prizes?
You are able to earn up to 6 Badges (tickets) equal to 30 hours of reading. For every 300 minutes you log, you receive a badge (ticket). You can see where to redeem your tickets in your account.
The actual prizes are on display in the library across from the teen space, and are also listed below!
Forgot your password?
Go to portagepublic.beanstack.org and click "I forgot my password" on the landing page. The site will walk them through resetting their password.
Any questions? -- Or if help is needed with this program please contact Patti at: pfichter@portagelibrary.us, or call her at 608-742-4959 x205
Prizes!
At the end of the reading program, Patti will do a random drawing for each prize package. So... the more you read - the more tickets you earn - the more you deposit in your favorite prize package - the better your chances! You can see what prizes you can win below!