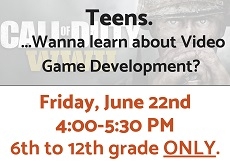 When: Friday, June 22, 2018 - 4:00pm to 5:30pm
Where: Teen Program Room
Teens... have you ever been interested in learning about video game development? Are you a big fan of the Call of Duty series? How about Call of Duty: WW2? Then you won't want to miss this event!!
We're bringing in Maggie Wolf, a Quality Assurance Tester at Raven Software in Middleton, WI, as she discusses her recent work on Call of Duty: WW2. Learn about some behind-the-scenes work on FPS games! Get a glimpse into the daily life of a QA tester at Raven Software and what that entails. Hear stories about the video game industry and learn about getting involved yourself!
This presentation is for teens 6th to 12th grade ONLY. As a heads up to all teens and parents: Call of Duty WW2 has an Entertainment Software Rating Board rating of M 17+ (Mature 17+) due to violent content. If you or your teen are not comfortable with video game violence, this presentation might not be for you. We will mostly be looking at the video game development/quality assurance tester aspect of the video game, but scenes from the video game are expected. Please bear this in mind when making a decision about whether to have a teen join us or not. Any questions? Call or e-mail Chris!
Contact: Chris: 608-742-4959 x203, cbaker@portagelibrary.us