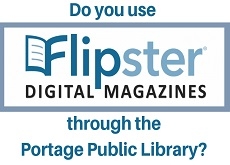 To start the new year out fresh, we have decided to highlight a different "Library Resource of the Month" each month to spread the word about some valuable services we offer outside of our library collections and computers.
For this month, we wanted to highlight FLIPSTER! By logging into Flipster, library patrons can access a robust collection of digital magazines that appeal to interests of all sorts. You can even do it on-the-go by using the Flipster app (available for both iOS and Android), and can download magazines to read them even while offline. If you are a magazine lover, Flipster would be a great fit for you!
To log into the Flipster app, you need library-specific login credentials, which you can get by visiting the library (we are not allowed to share the credentials online). Unlike in the past you now need to specifically choose Portage Public Library and not just South Central Library system.
If you are in our library (and not using the app), you'd need to be connected to our library wi-fi to access Flipster. Flipster can still be accessed from a non-library computer/browser by using a Portage Public Library library card number. Flipster titles will no longer be available to browse on LINKcat.
Please feel free to ask if you have any questions!