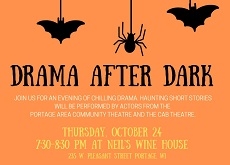 When: Thursday, October 24, 2019 - 7:30pm to 8:30pm
Where: Neil's Wine House
Join us for an evening of chilling drama! Hear haunting short stories be performed by actors from the CAB Theatre, and the Portage Area Community Theatre will give us a sneak peek of their next performance. Thursday, October 24th from 7:30-8:30 pm at Neil's Wine House, located at 235 W. Pleasant St. No registration is required.
Contact: Pam: programs@portagelibrary.us