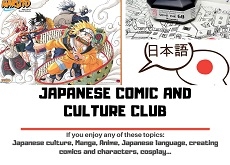 If you are 6th to 12th grade and enjoy any of these topics: Japanese culture, manga, anime, Japanese language, creating comics & characters, cosplay...

Then this is the club for you! This club is open to newcomers, experienced artists, and anyone who is curious to learn about Japan! There will be guided workshops on how to draw manga, learn basic Japanese, how to use Sumi ink pens, and learn about Japanese culture. Feel free to bring your own sketchbooks to share your work! Anime and manga fans are welcome to join as well, and if you like cosplay, feel free to come dressed up! For 6th to 12th grade only. This club will also function as an opportunity for teens to just come and draw (with supplies provided)!

The club will be held every OTHER Thursday from 4:00-5:30 PM. Check our website calendar at https://www.portagelibrary.us/calendar/month for the exact schedule! It will be held in the Teen Program Room! Supplies are provided.

Contact: Chris (Teen Services at the Library): cbaker@portagelibrary.us, or Kaylee Tsuboi (Instructor): tsukiip.art@gmail.com.