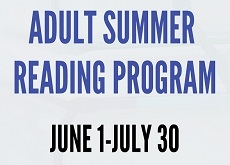 We are offering an Adult Summer Reading Program!
For ages 18+
Registration Begins Monday, May 18
Program Runs June 1-July 30
READING=CHANCE TO WIN PORTAGE GREEN GIFT CERTIFICATES
To register choose one of the following options:
Email programs@portagelibrary.us with your name, contact information, and library card barcode number. We will NOT share this information and will only contact you if you win.
Request a paper registration form with your curbside pick-up order
You will receive 20 wallet sized paper reading logs. To complete a reading log, darken in a circle for every half hour you read (for a total of up to 120 hours).You will also need to fill out some basic information on the back of the reading log. You don't have to complete them all, but each reading log you turn in increases your chances of winning!
Return your reading logs any time between June 1-July 30.
To return a completed reading log, you can:
Put them in a labeled container outside of the library during curbside pick-up hours (Monday-Friday 1:30-4:30 pm, Saturday: 9 am-noon)
Put them in a sealed envelope in the library book drop
What do you win? Each reading log you return enters you into a drawing for a chance to win a Portage Green Gift Certificate! You will get to choose where you spend your certificate from a list of local businesses! The winning names will be drawn the first week of August!
For more detailed information about the program, please visit our event facebook page at www.facebook.com/portagelibrary/events