Teen Stuff to do @ the Library - For 6th through 12th grade!
 
‣ 1.) First off: Come meet Chris, your Teen Services Librarian!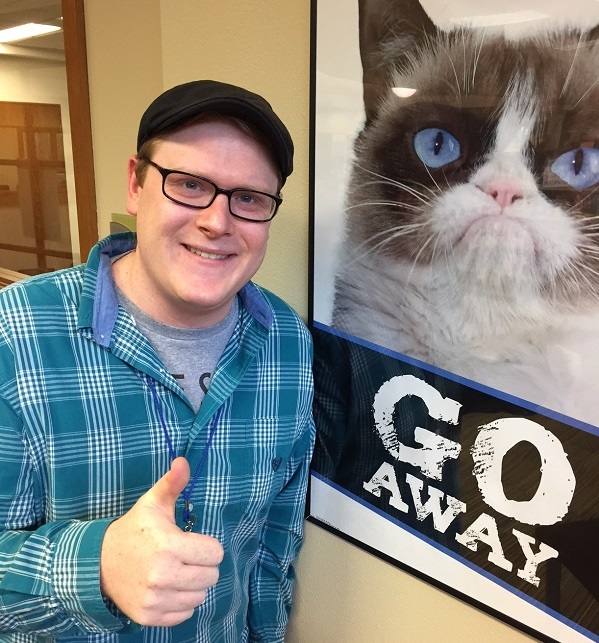 Please come into the library and introduce yourself! I am absolutely thrilled to be serving the parents and teens of the Portage community. I have pretty big ideas for Teen Programs and our Young Adult Collection at the Portage Public Library! I like to think I am a very easy-going guy, and most certainly a huge geek, so feel free to come share your interests with me! Throughout the Fall & Spring, we'll be expanding our Manga section, in addition to adding a substantial anime and video game collection (including, hopefully, a new console that Portage residents will be able to check out!). Of course, I'll continue to curate a wonderful selection of books, too!
Most of all, I want teens of the community to feel ownership of their library. This means I want to establish a few new things:
∙ A Teen Advisory Board - Teens will be able to opt in to a group where they will work together to design a lot of teen-related things at the library, including programs, teen area decorations, and more. I will advise and oversee but the teens will be the key decision makers! Teens will help us create programs that directly align with their interests!
∙ A volunteer program - In tandem with the advisory board, I'd like to work with teens that are interested in helping out at the library. This could include filling a more creative role in preparing crafts, decorating, helping guide teen programs, or more "library-based", assisting me with day-to-day activities!
∙ A fun, comfortable space - I'm incredibly interested in hearing what types of posters, decorations, and other fun things teens might want to see in the teen area. It should be a comfortable space that teens feel ownership of!
∙ A relevant, interesting collection - I want the teen & Young Adult materials we have to reflect teen interests in Portage. So if you have any particular wants or suggestions, always feel free to drop me a line!
If you'd like to get in contact with me to chat more about any of these things, here is my information. Cheers!
Chris Baker - Teen Services Librarian & Technology Coordinator
608-742-4959, x203
cbaker@portagelibrary.us
 
‣ 2.) Fall Afterschool Programs

During the schoolyear, we do our best to host weekly teen programs that we think we will be relaxing, social, and enjoyable. Additionally, we try to pick times that we understand work best with most Teen schedules! A lot of our weekly teen programs are really casual. We mostly do movies, board games, video games, easygoing crafts... and most importantly: FOOD. So why not come hang out after school? None of our programs are super "instruction-heavy" or stressful. You'll be able to meet new people, nosh on some snacks, and do things you enjoy.
∙ Afterschool Teen Programs are held on FRIDAYS, from 3:45 to 5:30(ish), and will continue until mid-December.
We will be closed certain Fridays due to Holidays and other unexpected things (like weather!), so double check our website and social media for the most accurate, moment-to-moment updates and details. You'll definitely want to like/subscribe/share/EVERYTHING on our Teen Social Media accounts:
Facebook: www.facebook.com/PortageTeens
Twitter: www.twitter.com/PORLibraryTeens
You could also e-mail Chris directly at cbaker@portagelibrary.us and ask to be added to his Teen E-mail List. This, by far, is the most direct way to learn about "all things teens" at the library! Finally, you can follow our teen programs via our website calendar. It's directly through the events on the calendar that you would register for Teen programs that specifically ask for it, too!
 
‣ 3.) Bi-weekly Magic: the Gathering Club!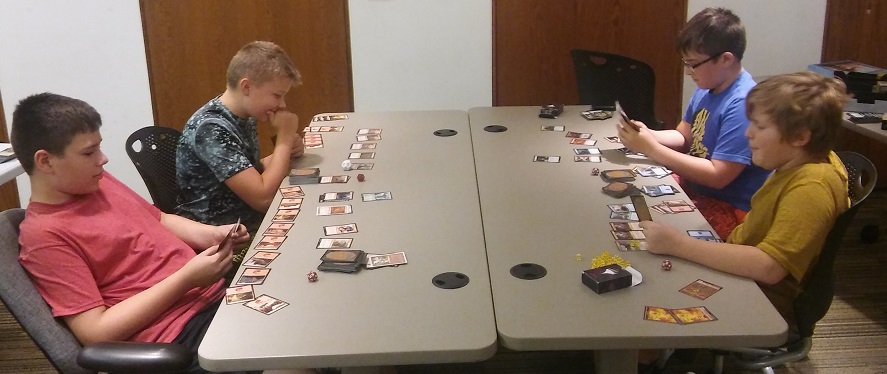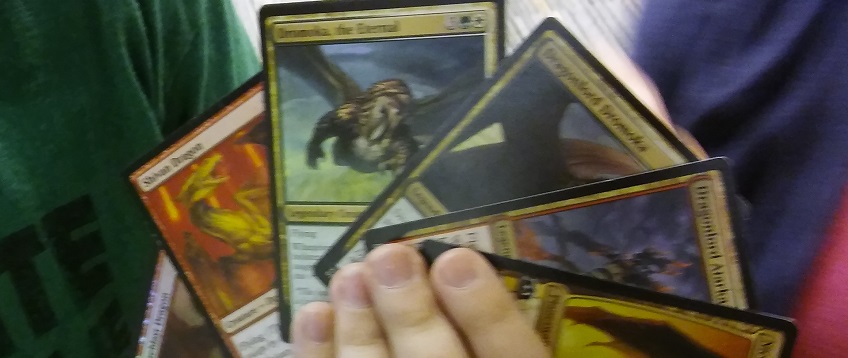 Starting Thursday, September 14th, from 3:45-5:30 PM, we'll be having a casual Magic: the Gathering Club every other Thursday (except when we're closed, of course!).
Even if you're completely new to the game, feel free to come hang out! There will be snacks, and people can play other boardgames if they'd like to. We should soon be getting a bunch of Introduction Decks directly from Wizards of the Coast (the company that makes Magic), so even if you don't have a deck, you'll be able to learn! There may also be periodic giveaways like Magic Booster Packs, card sleeves, playing mats, rare cards, and more!
 
‣ 4.) Fall & Winter READING PROGRAM! - Chance to win prizes by reading!
∙ For the most detailed instructions about our Fall Reading Program, click this link for printable instructions! ...  but if you just want the nitty gritty:
1.) Click the following link head to the "Fall 2017 Teen Readers" program via Wandoo Reader. Wandoo Reader is an online time-logging website our library system uses, complete with challenges and awards!
2.) Use a non-school e-mail address to register a username and password. You'll only have to answer a few questions before you can start logging your reading time! Note: if you've already registered a username and password for our SUMMER reading program, you can use the same login information again. You'll only have to confirm a few details, and you'll want to make sure you're logging your time into the Fall 2017 Teen Readers program, NOT the Summer Reading Program. Just make sure to head to the right link!
3.) Once logged in, record how many minutes you spend reading during the fall & winter. Every 300 minutes, or 5 hours, completes a "challenge" on Wandoo, and makes you eligible to claim a ticket at the library. There are 20 tickets total available to get! You'll put your tickets into prize jars for respective prize packages to increase your chance of winning! The more you read, the better you chances!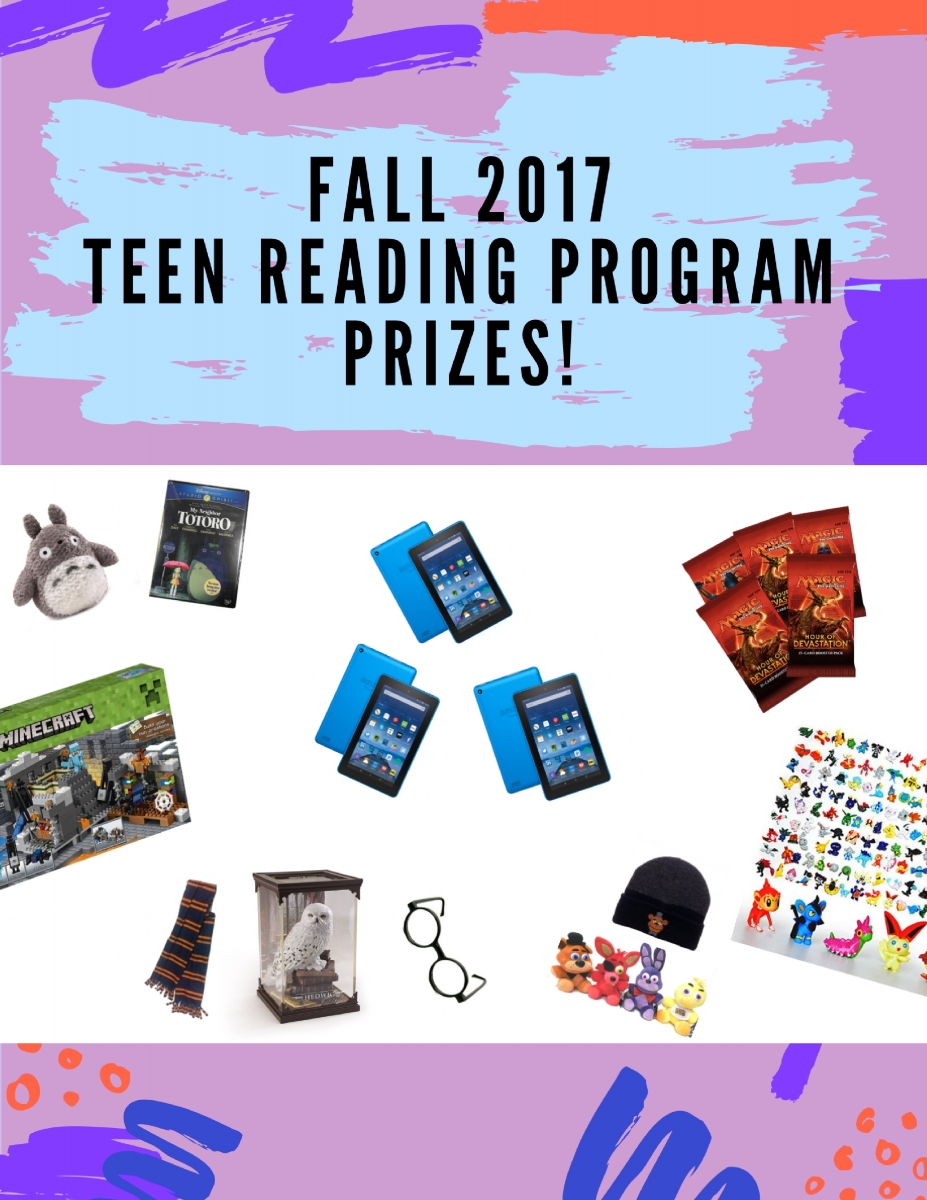 ∙ School-based reading (worksheets, textbooks, articles) are NOT eligible to be logged. You might want to click the detailed instructions above to be totally clear!
∙ However... if you have to read something like Huckleberry Finn, Shakespeare, or something like this... it DOES count! Log it! 

∙ We have 10 different prizes and prize packages we're giving away at the end of the Reading Program in December. These prizes include three brand new Kindle Fire Tablets, a Harry Potter package, a LEGO Minecraft Set, Magic: the Gathering Booster Packs, and much more! You can come to the library to see what we're giving away!
4.) In addition to this, there will be random book giveaways and other surprises. You'll get the chance to win fantastic things JUST by reading certain things you're already expected to for school, and anything else you read on top of it just betters your chances. Why not sign up!?
So START READING and START LOGGING!