Upcoming Teen Programs & More
‣ TEEN SUMMER READING PROGRAM: Chance to win great prizes!

1.)  Hop onto a computer & head to the following internet link:
∙ You will need to create an account with Wandoo Reader to log your reading. This requires an e-mail. If you forget your password or username, you can reset it through the same link!
∙ You will choose a username and password, and enter your age. Though not required, it is suggested that you also enter a good contact phone # so we can reach you if you are lucky enough to be our random prize drawing winner!
2.) START READING, and log all of your reading time into your Wandoo Reader account!
∙ Every 5 hours (or 300 minutes) read completes a "Challenge" on your account, and unlocks a corresponding "Award" (which needs to be redeemed by a staff member).
∙ Each "Award" is worth one ticket that you can use towards our random prize drawing at the end of the summer!
3.) To claim your tickets, head to the main desk in the library (across from the teen section) and ask a staff member to redeem a reward for you for the Teen Reading Program.
∙ Give them your last name. They will look you up, redeem your "Award" online, and give you a yellow star ticket!
4.) Write your FULL NAME, AGE, and TELEPHONE NUMBER on the back of the yellow ticket. Then put it in the prize jaw of your choice! And KEEP READING!
∙ You are able to complete up to a maximum of 10 challenges, or 50 hours, and therefore earn a grand total of 10 tickets. The more you read, the better your chances of winning a prize! You can claim your tickets one at a time or all at once!
∙ On the last day of our Summer Reading Program (July 27th) Chris will do a random drawing and you'll be able to see if you've won!
∙ Click here for printable Teen Reading Program directions!
‣ Come meet your new Teen Services Librarian!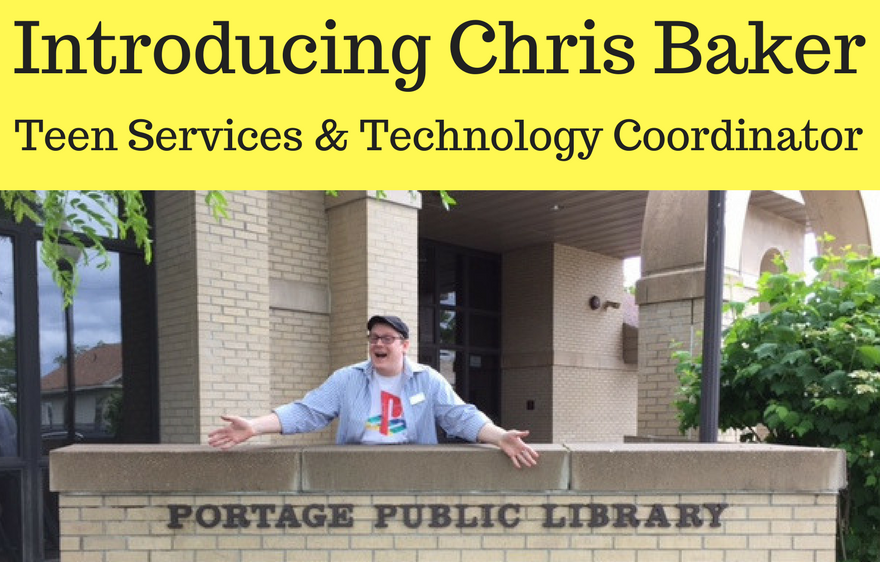 Please come into the library and introduce yourself! I am absolutely thrilled to be serving the parents and teens of the Portage community. There is a lot to learn in a short amount of time, so I ask your patience as I grow into my position... BUT - I have pretty big ideas for Teen Programs and our Young Adult Collection at the Portage Public Library! I like to think I am a very easy-going guy, and most certainly a huge geek, so please feel free to come share your interests with me! I plan to expand our board game and manga section, as well as add a substantial anime and video game collection (including, hopefully, a new console that Portage residents will be able to check out!). Of course, I'll continue to curate a wonderful selection of books, too!
Additionally, I want teens of the community to feel ownership of their library. This means I want to establish a few new things:
∙ A teen advisory board - Teens will be able to opt in to a group where they will work together to design a lot of teen-related things at the library, including programs, teen area decorations, and more. I will advise and oversee but the teens will be the key decision makers! Teens will help us create programs that directly align with their interests!
∙ A volunteer program - In tandem with the advisory board, I'd like to work with teens that are interested in helping out at the library. This could include filling a more creative role in preparing crafts, decorating, or helping guide teen programs, or more "library-based", assisting me with day-to-day activities!
∙ A fun, comfortable space - I'm incredibly interested in hearing what types of posters, decorations, and other fun things teens might want to see in the teen area. It should be a comfortable space that teens feel ownership of!
∙ A relevant, interesting collection - I want the teen & Young Adult materials we have to reflect teen interests in Portage. So if you have any particular wants or suggestions, always feel free to drop me a line!
If you'd like to get in contact with me to chat more about any of these things, here is my information. Feel free to reach out! Cheers!
Chris Baker - Teen Services & Technology Coordinator
608-742-4959 x203

‣ Other things we offer for teens!
∙ A cozy teen space to hang out, do homework, play board games, & browse magazines (But hey - we'd love to have you help us jazz up the place!  We're always looking for artists to submit their work for our communal art wall).
∙ A contemporary collection that includes all your favorite authors, hot new reads, nonfiction, audiobooks, graphic novels, & manga. And soon... even more!
∙ Teen Movie Mondays throughout the Summer. Plus pizza! More details about schoolyear programs to come!
∙ A Summer Reading Program - the more you read, the better your chance to win fantastic prizes!
∙ Book recommendations when you just need a good read.
∙ Chris is always open to suggestions as to improving our space and collection!
 
In short... come hang out!!