Teen Stuff @ the Library!
‣ Come meet your new Teen Services Librarian!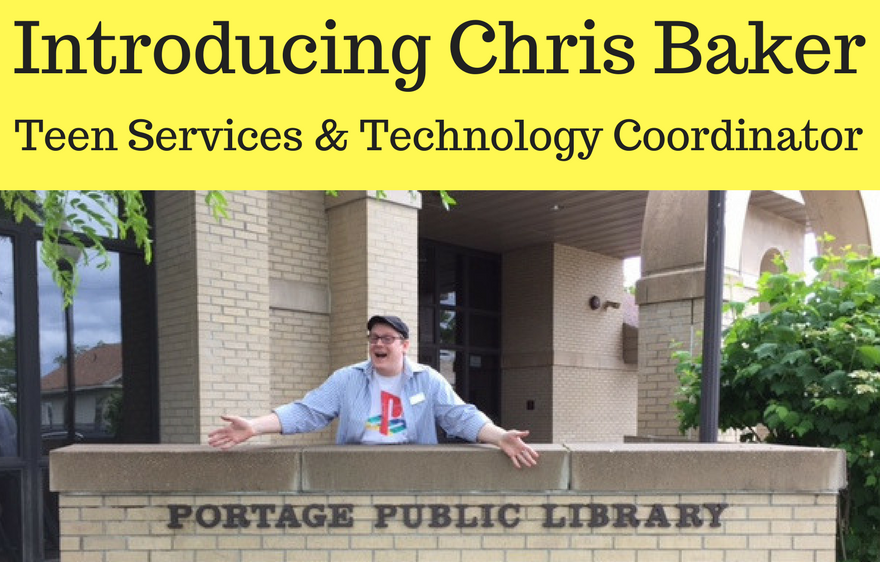 Please come into the library and introduce yourself! I am absolutely thrilled to be serving the parents and teens of the Portage community. There is a lot to learn in a short amount of time, so I ask your patience as I grow into my position... BUT - I have pretty big ideas for Teen Programs and our Young Adult Collection at the Portage Public Library! I like to think I am a very easy-going guy, and most certainly a huge geek, so please feel free to come share your interests with me! I plan to expand our board game and manga section, as well as add a substantial anime and video game collection (including, hopefully, a new console that Portage residents will be able to check out!). Of course, I'll continue to curate a wonderful selection of books, too!
Additionally, I want teens of the community to feel ownership of their library. This means I want to establish a few new things:
∙ A teen advisory board - Teens will be able to opt in to a group where they will work together to design a lot of teen-related things at the library, including programs, teen area decorations, and more. I will advise and oversee but the teens will be the key decision makers! Teens will help us create programs that directly align with their interests!
∙ A volunteer program - In tandem with the advisory board, I'd like to work with teens that are interested in helping out at the library. This could include filling a more creative role in preparing crafts, decorating, or helping guide teen programs, or more "library-based", assisting me with day-to-day activities!
∙ A fun, comfortable space - I'm incredibly interested in hearing what types of posters, decorations, and other fun things teens might want to see in the teen area. It should be a comfortable space that teens feel ownership of!
∙ A relevant, interesting collection - I want the teen & Young Adult materials we have to reflect teen interests in Portage. So if you have any particular wants or suggestions, always feel free to drop me a line!
If you'd like to get in contact with me to chat more about any of these things, here is my information. Feel free to reach out! Cheers!
Chris Baker - Teen Services & Technology Coordinator
608-742-4959 x203

‣ Other things we offer for teens!
∙ A cozy teen space to hang out, do homework, play board games, & browse magazines (But hey - we'd love to have you help us jazz up the place!  We're always looking for artists to submit their work for our communal art wall).
∙ A contemporary collection that includes all your favorite authors, hot new reads, nonfiction, audiobooks, graphic novels, & manga. And soon... even more!
∙ Teen Movie Mondays throughout the Summer. Plus pizza! More details about schoolyear programs to come!
∙ A Summer Reading Program - the more you read, the better your chance to win fantastic prizes!
∙ Book recommendations when you just need a good read.
∙ Chris is always open to suggestions as to improving our space and collection!
 
In short... come hang out!!