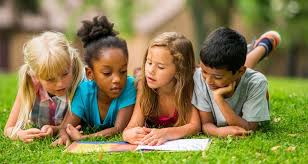 Welcome to the Children's Department at the Portage Public Library!
The Children's Department serves children from birth through age 12, their caregivers, teachers, and members of the general public interested in children's literature. We present weekly programs for young children and their caregivers including storytimes, family extravaganza programs, and summer reading activities for preschool and school-aged children.
The staff of the Children's Department is happy to have families visit and enjoy the services, programming, and play spaces that the children's area has to offer. We work hard to make the Children's Area a welcoming, comfortable, and safe place for all who visit. We hope that visitors will keep in mind that the Children's Area is for all families, with designated spaces recommended for children of specific ages.
Please help us keep the library fun and safe for everyone by preparing your children for their library visit:
Remind them that the library is a place for fun, play, and learning, but not for running, shouting or throwing.
Encourage good library manners by modeling appropriate behavior for young children by using "inside voices" and handling library materials with care.
Please help your child redeturn toys, puzzles, games and other play items to their original spots.
Keep in mind that appropriate behavior and language must be used at all times in the children's area to ensure an enjoyable experience for all visitors.