The Portage Public Library would like to invite everyone to join us at the Pauquette Park Beasley Pavilion on Thursday, August 19th, starting at 6:00 pm, for a brief presentation and Q&A with Lt. Governor Mandela Barnes! The Lt. Governor will speak about issues of racism and systemic racism as they affect Wisconsin communities, as well as the state's approach to improving equity for all Wisconsinites. This is an event for everyone in Portage to attend regardless of one's personal political alignments and/or beliefs; it's an opportunity for all members our community participate in a dialogue with a representative of our state government!
This presentation is the capstone event to the Portage Public Library's Community Read 2021, where we've focused on the book The Sum of Us by Heather McGhee, though participation in the Community Read is not necessary for anyone attenting. For more information about our Community Read 2021, please visit our website here: portagelibrary.us/CommunityRead2021
Questions asked of the Lt. Governor will have been curated via discussions held throughout the Community Read. You can also directly suggest questions to ask by calling the library at (608)-742-4959 ext. 203, or by e-mailing CommunityRead [at] portagelibrary.us.
Note: Due to time considerations, questions will not be taken from audience members live at the event; for similar reasons, not all questions suggested to the library will be able to be asked. We appreciate everyone's understanding!
_________________________
Image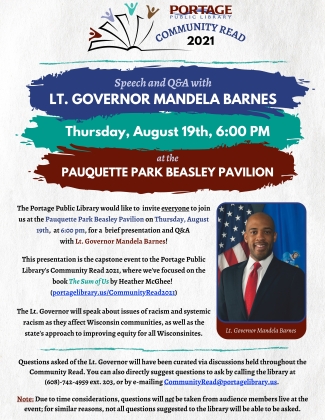 Contact
CommunityRead@portagelibrary.us
Where
Pauquette Park Beasley Pavilion