Mystery Lovers Book Club at Portage Public Library meets monthly to discuss current and classic mystery stories! We have read a plethora of authors (we try to find a new one every time!) and are always on the prowl for a good mystery story we haven't read, yet.
Read, enjoy, and discuss a good mystery with a group of great people! Meets the second Tuesday of each month from 1:30-2:30 PM. No registration required. Just read the book and show up!
Books are available on the Holds shelf. 
Books we will be discussing for 2023:
Image
October 10, 2023 
All the Dangerous Things by Stacy Willingham
SUMMARY (from stacywillingham.com)
One year ago, Isabelle Drake's life changed forever: her toddler son, Mason, was taken out of his crib in the middle of the night while she and her husband were asleep in the next room. With little evidence and few leads for the police to chase, the case quickly went cold. However, Isabelle cannot rest until Mason is returned to her―literally.
Except for the occasional catnap or small blackout where she loses track of time, she hasn't slept in a year.
Isabelle's entire existence now revolves around finding him, but she knows she can't go on this way forever. In hopes of jarring loose a new witness or buried clue, she agrees to be interviewed by a true-crime podcaster―but his interest in Isabelle's past makes her nervous. His incessant questioning paired with her severe insomnia has brought up uncomfortable memories from her own childhood, making Isabelle start to doubt her recollection of the night of Mason's disappearance, as well as second-guess who she can trust... including herself. But she is determined to figure out the truth, no matter where it leads.
Image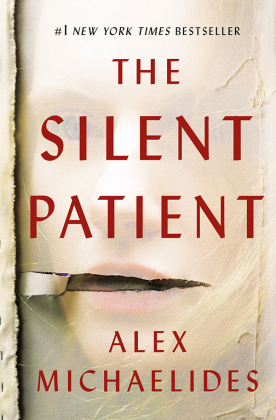 November 14, 2023 
The Silent Patient by Alex Michaelides
SUMMARY (from www.celadonbooks.com)
Alicia Berenson's life is seemingly perfect. A famous painter married to an in-demand fashion photographer, she lives in a grand house with big windows overlooking a park in one of London's most desirable areas. One evening her husband Gabriel returns home late from a fashion shoot, and Alicia shoots him five times in the face, and then never speaks another word.
Alicia's refusal to talk, or give any kind of explanation, turns a domestic tragedy into something far grander, a mystery that captures the public imagination and casts Alicia into notoriety. The price of her art skyrockets, and she, the silent patient, is hidden away from the tabloids and spotlight at the Grove, a secure forensic unit in North London.
Theo Faber is a criminal psychotherapist who has waited a long time for the opportunity to work with Alicia. His determination to get her to talk and unravel the mystery of why she shot her husband takes him down a twisting path into his own motivations—a search for the truth that threatens to consume him.
Image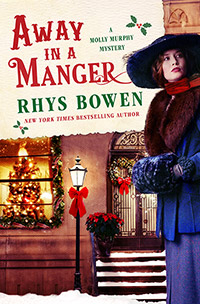 December 12, 2023
Away in a Manger by Rhys Bowen
SUMMARY (from www.rhysbowen.com)
It's Christmastime in 1905 New York City, and for once, Molly Murphy Sullivan is looking forward to the approaching holidays. She has a family of her own now: she and Daniel have a baby son and twelve-year-old Bridie is living with them as their ward. As Molly and the children listen to carolers in the street, they hear a lovely voice, the voice of an angel, and see a beggar girl huddled in a doorway, singing "Away in a Manger." Bridie is touched by the girl's ragged clothes and wants to help her out if they can. They give her a quarter, only to watch a bigger boy take it from her. But Molly discovers the boy is the girl's older brother. They've come from England and their mother has disappeared, and they're living with an aunt who mistreats them terribly.
Molly quickly realizes that these children are not the usual city waifs. They are well-spoken and clearly used to better things. So who are they? And what's happened to their mother? As Molly looks for a way to help the children and for the answers to these questions, she gets drawn into an investigation that will take her up to the highest levels of New York society.
 
Questions?
Contact our Library Assistant - Public Services, Gloria Johntel. You can e-mail gloria [at] portagelibrary.us, or call her 608-742-4959 ext. 180.