Mystery Lovers Book Club at Portage Public Library meets monthly to discuss current and classic mystery stories! We have read a plethora of authors (we try to find a new one every time!) and are always on the prowl for a good mystery story we haven't read, yet.
Read, enjoy, and discuss a good mystery with a group of great people! Meets the second Tuesday of each month from 1:30-2:30 PM. No registration required. Just read the book and show up!
Books are available on the Holds shelf. 
Books we will be discussing...
Image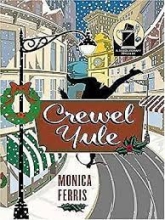 Dec. 16  Crewel Yule by Monica Ferris
SUMMARY (from goodreads.com)
Part-time sleuth and full-time owner of the needlework shop Crewel World, Betsy Devonshire likes to have a hand in anything crafty-from knitting to solving crime. In this latest yarn in the bestselling series, Betsy prepares for a chilling holiday season filled with mistletoe-and murder.
This year's needlework convention is tragically interrupted when one shop owner tumbles nine stories to her untimely death. Now Betsy, Godwin, and other knitting hands must unravel the clues that will put the killer to rest...for a long winter's night.
Image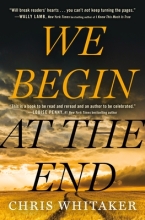 Jan. 10, 2023  We Begin at the End by Chris Whitaker
SUMMARY (from goodreads.com)
There are two kinds of families: the ones we are born into and the ones we create.

Walk has never left the coastal California town where he grew up. He may have become the chief of police, but he's still trying to heal the old wound of having given the testimony that sent his best friend, Vincent King, to prison decades before. Now, thirty years later, Vincent is being released.

Duchess is a thirteen-year-old self-proclaimed outlaw. Her mother, Star, grew up with Walk and Vincent. Walk is in overdrive trying to protect them, but Vincent and Star seem bent on sliding deeper into self-destruction. Star always burned bright, but recently that light has dimmed, leaving Duchess to parent not only her mother but her five-year-old brother. At school the other kids make fun of Duchess―her clothes are torn, her hair a mess. But let them throw their sticks, because she'll throw stones. Rules are for other people. She's just trying to survive and keep her family together.

A fortysomething-year-old sheriff and a thirteen-year-old girl may not seem to have a lot in common. But they both have come to expect that people will disappoint you, loved ones will leave you, and if you open your heart it will be broken. So when trouble arrives with Vincent King, Walk and Duchess find they will be unable to do anything but usher it in, arms wide closed.

Chris Whitaker has written an extraordinary novel about people who deserve so much more than life serves them. At times devastating, with flashes of humor and hope throughout, it is ultimately an inspiring tale of how the human spirit prevails and how, in the end, love―in all its different guises―wins.
Questions?
Contact our Library Assistant - Public Services, Gloria Johntel. You can e-mail gloria [at] portagelibrary.us, or call her 608-742-4959 ext. 206.