Teen Stuff to do @ the Library - For 6th through 12th grade!
 
Click the following link for information about how teens can win prizes JUST by reading!
Teen Summer Reading Program 2018
 
‣ 1.) Come meet Chris, your Teen Services Coordinator!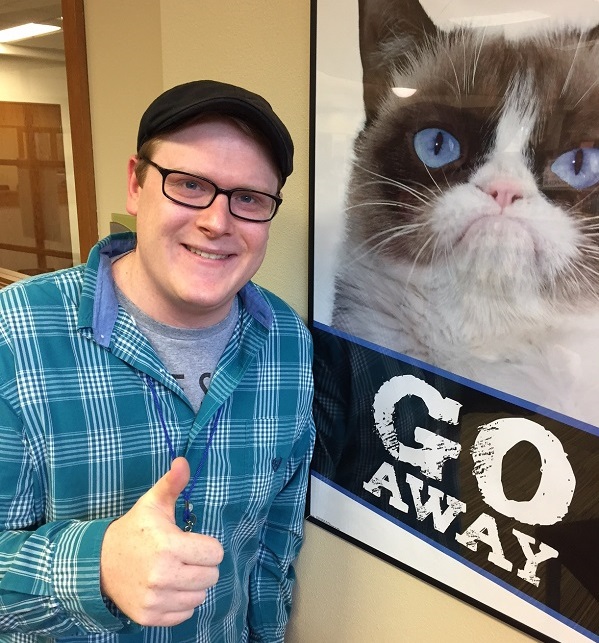 Please come into the library and introduce yourself! I am absolutely thrilled to be serving the parents and teens of the Portage community. I like to think I am a very easy-going guy, and most certainly a huge geek, so feel free to come share your interests with me!
Most of all, I want teens of the community to feel ownership of their library. This means I want to establish a few things:

∙ A volunteer program - I'd like to work with teens that are interested in helping out at the library. We don't have a volunteer program designed yet, but with enough interest, could certainly put one together! Volunteering could include filling a more creative role in preparing crafts, decorating, helping guide teen programs, or more "library-based" things, like assisting me with day-to-day activities. Let me know!
∙ A fun, comfortable space - I'm interested in hearing what types of posters, decorations, and other fun things teens might want to see in the teen area. It should be a comfortable space that teens feel ownership of! Adults and younger people can browse the collection, but we ask all people that are NOT teens to enjoy the rest of the library - let the teens have this space!
∙ A relevant, interesting collection - I want the teen & Young Adult materials we have to reflect teen interests in Portage. So if you have any particular wants or suggestions, always feel free to drop me a line!
If you'd like to get in contact with me to chat more about any of these things, here is my information. Cheers!
Chris Baker - Teen Services Librarian & Technology Coordinator
608-742-4959, x203
cbaker@portagelibrary.us
 
‣ 2.) Two Teen Programs a Week during June & July

∙ Teen Movie Tuesdays
Every Tuesday during June & July from 1:00-3:30 PM we'll be watching a neat movie in the Teen Program Room. All Tuesday teen movies are for 6th to 12th grade only. Snacks will be provided, so why not get out of the heat and enjoy a movie in the AC! All movies will be rated PG-13 or under. Quiet chatting is totally cool, but please be respectful of other teens trying to watch the film. For specific details about what films we'll be watching, follow us on facebook at www.facebook.com/PortageTeens. Check the events page!
∙ Friday Programs
Every Friday during June & July from 3:30-5:30 PM we'll have some sort of fun activity to do. It might be a craft, it might be video games or board games, it might be watching anime, or something else! Typically snacks are provided. All Friday teen programs are for 6th to 12th grade only. For specific details about what crafts and activities we'll be doing, follow us on facebook at www.facebook.com/PortageTeens. Check the events page!
 
‣ 3.) Bi-weekly Magic: the Gathering Club!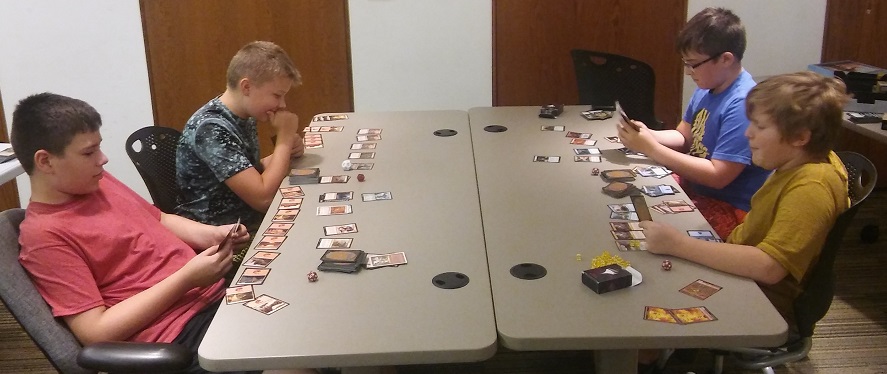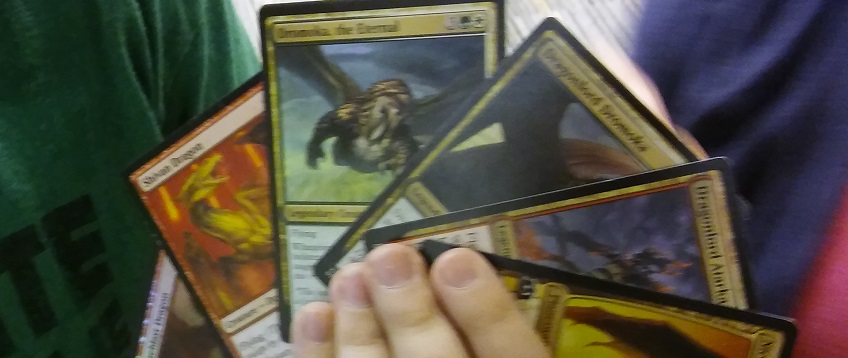 Every other Thursday from 3:30-5:30 PM, we have a casual Magic: the Gathering Club (except when we're closed, of course!). The first of the Summer will be on Thursday, June 7th.
Even if you're completely new to the game, feel free to come hang out! There will be snacks, and people can play other boardgames if they'd like to. We will have a few pre-assembled basic decks that teens can borrow to learn with. There may also be periodic giveaways like Magic Booster Packs, card sleeves, playing mats, rare cards, and more!
 
Please be aware: Teens participating in any Portage Public Library programs may be photographed or included in video by newspaper staff, library staff, or others involved in Teen Programming. The photographs/videos may appear on the library's website and social media, in the news paper, or other publications without compensation. Parents/guardians/teens who want to opt out should notify library staff and fill out the required form, otherwise participation in our photo/video policy is presumed. If you would like to learn more about library policies that could be relevant to teens joining us for library programs or checking out items, please refer to our policy page.