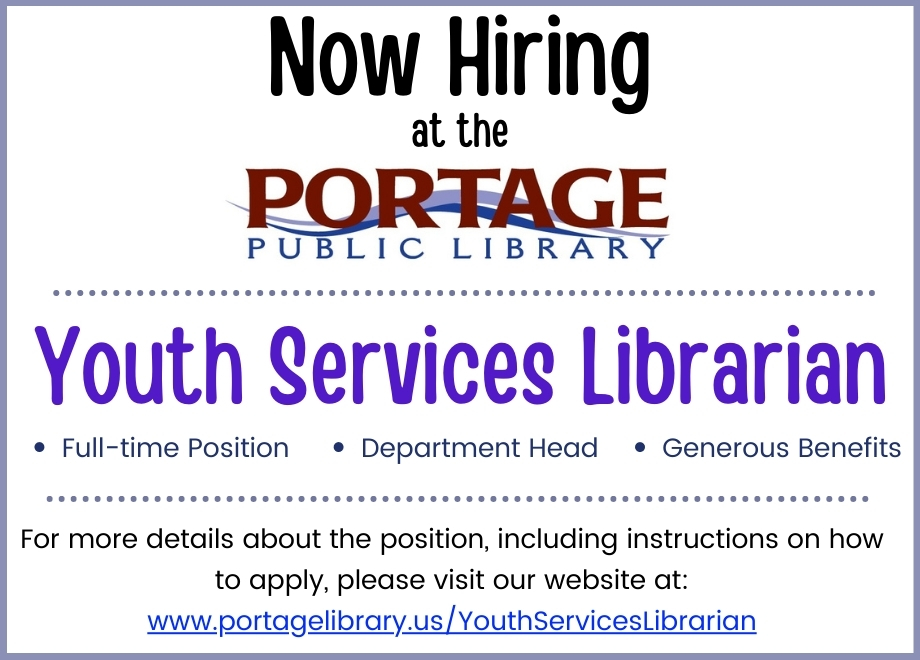 Are you passionate about library service to children, teens, and families? Are you self-motivated, flexible and forward-thinking? The Portage Public Library is looking for a creative and tech-savvy Youth Services Librarian! This full-time library leadership position must be enthusiastic about working alongside other library department heads to effectuate the library's mission and vision. We seek a candidate who strives to engage our community with inventiveness and open-mindedness, while being able to effectively work both collaboratively and independently. This position requires interaction with schools, daycares, homeschoolers and community groups. Knowledge of, experience with, and passion for children and teen selection/collection development is required. A strong work ethic and program design experience is a must. Additional duties include providing quality reference assistance, reader's advisory for the recreational, school and informational needs of children, teens and their caregivers. This positions supervises a library assistant and clerk. An MLIS degree and at least 1-3 years Youth Services library experience is required. 
About Our City: Portage is a historic town with a population over 10,000. The Portage Public Library is the largest library in Columbia County and serves a diverse yet close-knit (and growing) community. Portage is the County Resource Library and prides itself on being progressive, technologically cutting-edge and collaborative. We are a member of the South Central Library System.
Compensation: The starting hourly wage is $18-$19. This full-time (40 hours per week) position comes with excellent benefits. 
To Apply: Email resume and cover letter to apply@portagelibrary.us. If you have questions, please contact Library Director, Debbie Bird, at dbird@portagelibrary.us.  We are accepting applications for this position until it is filled.
Full job description available at: https://www.portagelibrary.us/YouthServicesLibrarian
 
The Portage Public Library is an equal opportunity employer.